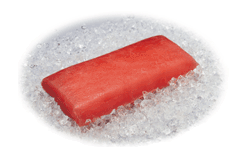 Prime Cut Fillets (Saku)
Simply speaking, this is the finest part of the fish. Cut from the eye of the loin. This superior graded fish is ideal for Sashimi and Sushi rolls.

Packed 2 x 11 lb.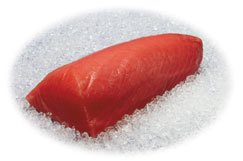 Loins
Now the food service trade can allow chefs to custom cut steaks and other forms to their exacting specifications. Available in 5-12 lb. and 3-6 lb. Your customers will love the look and performance.

Packed 1 x 30 lb.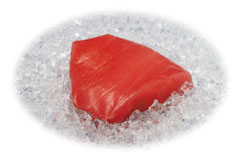 Steaks
2, 4, 8 and 10 oz.
All the benefits, plus perfect portion control are available in 4, 6, 8 and 10 ounces for food service. Retailers will enjoy flexibility in case set-up. Your customers will love to see that fresh Ahi color, until now only available with fresh tuna. Why settle for brown tuna?

Packed 1 x 10 lb.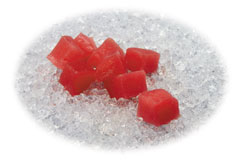 Poke
Uniform cuts allow chefs to replicate the famous Poke Salad of the Hawaiian Islands.

Packed 22 x 1 lb.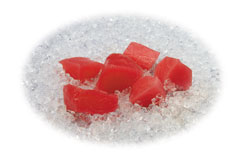 Cubes


Perfect for stir-fry and kabobs. Random cut pieces offer quality and value.

Packed 22 x 1 lb.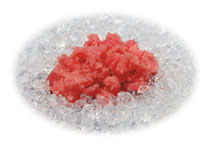 Ground
The same quality as our other cuts but in a ground up format. Perfect for spicy tuna rolls, as well as for top quality tuna burgers.

Packed 22 x 1 lb.